We have been a homeschooling family for 9 years now and we have had preschoolers in our home every year.  In fact, we are homeschooling now with a preschooler, a special needs Kindergarten student, a 4th grader and two 7th graders.  I often find myself wondering how to get through the day accomplishing all that the older children need while preventing the youngest two from demolishing the house around us.  That said, the opportunity to review Kendra Fletcher's
Preschooler's and Peace Ebook
was a blessing.
In exchange for this review I received one PDF download of Preschoolers and Peace ~ $2.99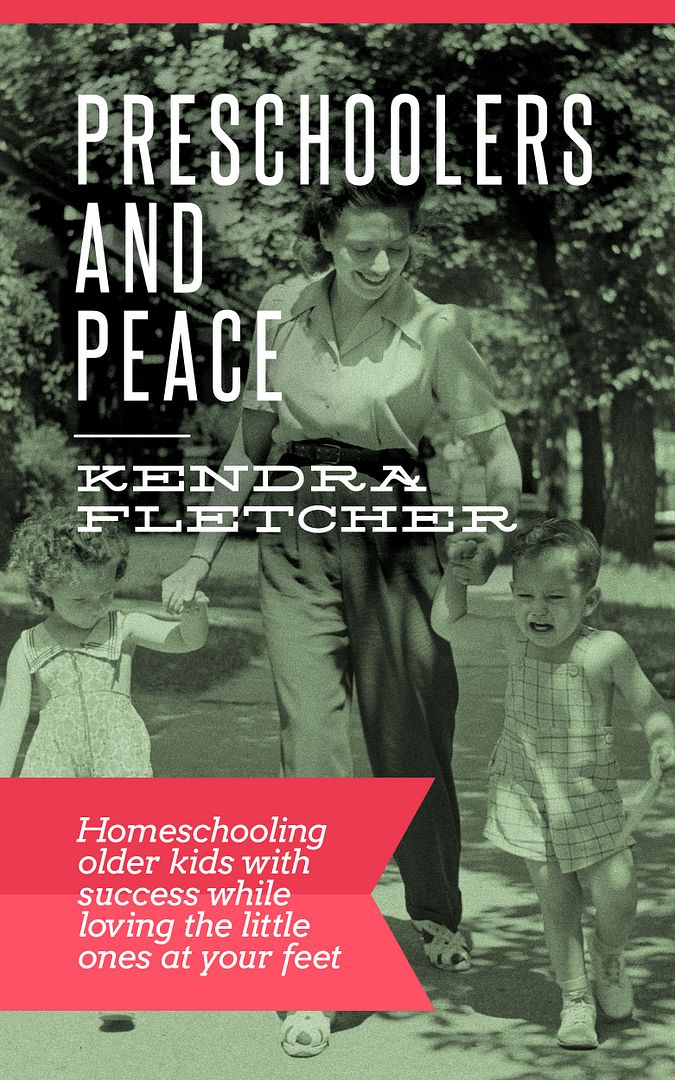 About the Author
Kendra Fletcher is a homeschooling mom of 8 children.  When she wrote the book Preschoolers and Peace, she had been homeschooling for 16 years, always with a preschooler in the home.  She has homeschooled while pregnant, postpartum and nursing babies.
Kendra bears the passion and privilege encouraging other moms who are beginning their homeschooling journey with little ones underfoot.  She and her husband Fletch do this by blogging and podcasting at HomeschoolingIRL, the Preschoolers and Peace Blog, and Kendra's own author blog.  Kendra says, "I want most to find my identity in Christ alone, knowing how quickly all the other descriptors can take my focus off the one who has Redeemed my soul. "
About the Book
Preschoolers and Peace is a 47 page ebook written from the experiences of Kendra Fletcher.  After a brief introduction explaining her reasons for writing the book and her own struggle with identity, she covers material broken into the follow 13 chapters:
What a Homeschooling Mom Needs
Preparing Yourself to Homeschool Older Kids with Little Ones Underfoot
Planning Around Preschoolers
How do I Keep Them Busy?
What Does a 2-Year-Old's Day Look Like?
How Do I Get Any Preschooling Done?
How Not to Just Kill Time
Circle Time, or How We Pull the Little Ones In
Preschool Boys
When All of Your Kiddos are Preschoolers
Preschool Chores
Planning for Preschool
When Mama is Worn Out (or Pregnant)
Each of these chapters is infused with stories from Kendra's life and practical tips and knowledge that she has gleaned from her 16 years in the trenches.
Kendra also includes these additional sections in the book:
Meal Planning 101 – After addressing the necessity of meal planning in earlier chapters, Kendra provides this section of practical "how-to" tips and examples.
A Final Word of Encouragement
Resources – This section lists links for each of the resources mentioned in the book organized by chapter.
Impressions
Preschoolers and Peace is one of those books that a homeschooling mom should purchase in August, but wait to read in December or January.  It is one of those books that can help you recharge and refocus on the job at hand.
I thought I had seen it all with preschoolers until my sweet little red head turned 5 years old.  Technically, he is not a preschooler any more, but team him up with his 3 year old brother and they are a force to be reckoned with!
After our first two "official" weeks of school this year, I found myself wondering if I could really do this.  After reading Preschoolers and Peace, I am armed with a fresh perspective lots of new ideas.
Christmas is coming soon.  If you know a homeschooling mom with a preschooler, Preschoolers and Peace would make a perfect gift.  Chances are, she will be needing a book like this at the end of the first semester.
Social Media
Keep up with the latest news and releases from Kendra by following her via these social media links:
Facebook: https://www.facebook.com/PreschoolersandPeace
Twitter: https://twitter.com/KendraEFletcher
Pinterest: http://www.pinterest.com/kenj/
Google+: https://plus.google.com/+KendraFletcher/posts
You Tube: https://www.youtube.com/user/preschoolersandpeace
See other Crew Reviews here:


Share and Enjoy