*This post contains affiliate links.
I was scrolling through Pinterest one morning and saw a string of pins about this thing called geocaching.  I did a little bit of reading online, then decided we should give it a try.  After only one caching adventure we were hooked.
What is Geocaching?
Geocaching is a real world treasure hunt using GPS coordinates and clues obtained from a website or smartphone app.  Caches are hidden and logged by other Geocachers and include a log to sign and sometimes "swag".
Geocachers can use the official Geocaching App to locate caches hidden close to their location.  Caches are rated based on level of difficulty from beginner to expert.
This was our fist Geocaching find.
Information about the size of the cache is also given.  Caches can be sized from micro, which is about the size of a 35mm film container to large, which is about the size of an ammo box.  Larger caches are especially fun to find because they are likely to contain some fun swag.
Geocaching swag can be anything from homemade trinkets to official Geocaching swag items.  Most are small and inexpensive.  We have learned that it really doesn't matter to our kiddos what the swag item is, as long as there is one to be found.
This was our first piece Geocaching swag.
 Geocaching Fun for All Ages
There is a job for everyone in our family, ages 3-43, on each geocaching adventure.  The youngest of our children suit up in their homemade geocaching binoculars and keep their eyes peeled looking for signs of the cache.  Our older children take turns navigating and trying to solve the clues.  I search for area caches and plan the route from cache to cache and Dad does the driving.
Geocaching Resources
There are some great geocaching books out there that have been a huge help to us.  Our favorites are The Complete Idiot's Guide to Geocaching, 3e (Idiot's Guides)
, Geocaching: Basic Beginner's Guide
, and Geocaching For Dummies
.
You can also find lots of good ideas on my Geocaching Pinterest board here.

Printables
Just in case you are as excited as we are about Geocaching, I have some free printables for you.  Each of my children wanted to keep a journal of our caching excursions.  They started out with a basic notebook but I eventually made them some pretty journal pages and notebook covers.  You can download them here for free!
Download the Notebook Cover Page here.
Download the Journal Page here.
Is this the first time you have heard of Geocaching?  If not, lets talk about your adventures.  Do your children love it?
Find more posts you will enjoy here: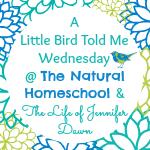 *This post contains affiliate links.
Share and Enjoy