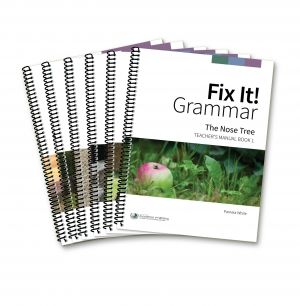 I have long been a fan of the
Institute for Excellence in Writing
products.  I used
Fix It! Grammar
for a class I taught at our homeschool co-op several years ago and found it to be an excellent resource.  It was a real treat to get the opportunity to review IEW's new and improved Fix It! Grammar.
Disclosure
In exchange for this review I received the following:
Fix It! Grammar: The Nose Tree [Book 1] Teacher's Manual – $19.00
Fix It! Grammar: The Nose Tree [Book 1] Student – $15.00
About Fix It! Grammar
Fix It! Grammar is an easy 10-15 minutes per day grammar program that introduces a new grammar concept each week while reviewing past teaching.  Fix It! Grammar encourages students to immediately apply new grammar knowledge in context, aiding in the transfer of grammar skills into their own writing.  This makes Fix It! the perfect complement to the IEW writing curriculum, but it can also stand alone as a grammar program for older students who need systematic review and improved writing skills.
The Student Book 1 provides worksheets for 32 weeks of grammar lessons.  Each lesson is divided into 4 days and the student corrects and identifies parts of speech in one sentence per day.  Each daily sentence also contains a vocabulary word to be defined.
Also included in the Student Book are pre-printed grammar cards used for memorizing the parts of speech and grammar rules.  These cards are printed on heavy card stock marked for cutting.  The Student Book also contains a Fix It! Grammar Glossary with sections for:
Parts of Speech
Sentences, Clauses and Phrases
Punctuation
Additional Rules and Concepts
Stylistic Techniques
Using the Student Book alone, a student could navigate his way through grammar lessons using the book as a self-teaching tool.
The Teacher's Manual Book 1 is a valuable resource.  The Teacher's Manual provides and detailed introduction explaining the Fix It! Grammar process and a daily answer key for each lesson.  The Teacher's Manual also provides another copy of the Glossary found in the Student Book.
How We Use Fix It! Grammar
I am currently using Fix It! with my two 7th grade students.  The amount of time required to complete the daily assignment varies but is usually around 15 minutes per day including the time for discussion and rewrite.
Every Monday, we read the lesson, discuss the new concepts and review the past grammar flashcards.  After that, the student corrects the sentence in the workbook, we discuss the corrections, make any additional corrections necessary, and discuss the definition of the vocabulary word for the day.  The final step in the process is the student adding the corrected sentence to his rewrite of the story.
Impressions
We truly love Fix It! Grammar.  My students used to dread their grammar work.  It was long and tedious.  Fix It! Grammar allows them to learn, practice and apply grammar rules and techniques in manner that is not only efficient, but it allows enough review to maintain the knowledge acquired.
Resources
Institute for Excellence In Writing provides the following resources for parents considering using Fix It! Grammar:
Webinar Introducing Fix It! Grammar
Video Introduction to Books 1 & 2 by Andrew Pudewa
Placement Test for Fix It! Grammar
Social Media
Keep up with all of the latest news and releases from Institute For Excellence in Writing by following them via these social media links.
Facebook: https://www.facebook.com/excellenceinwriting
Twitter: https://twitter.com/iew
Pinterest: http://www.pinterest.com/iewriting
Google+: https://plus.google.com/+Iewriting/posts
You Tube: https://www.youtube.com/user/iewtv
Vimeo: http://vimeo.com/iewtv
Other Crew Reviews
See what other Schoolhouse Review Crew members are saying about Fix It! Grammar by clicking the following banner.


Share and Enjoy